Playing golf is both fun and relaxing, whether you're a PGA pro, seasoned amateur or just starting out. You might even enjoy mini golf with your friends and family on the weekends for a few friendly competitive matches. Doing it a few times a month, however, adds up quickly, so installing a putting green in your backyard will keep the fun going and be more affordable.
Whether you are playing the sport for the first time or have been playing it for years, golf offers many benefits to improve your physical and mental well-being. According to Leeds Golf Centre, it helps circulate blood flow and reduces your risk of heart attack or cardiovascular problems. Additionally, being outdoors provides mental clarity and reduces anxiety and stress.
If the golf courses or driving ranges in the area are too far away, installing a putting green in your backyard will allow you to play from the comfort of your home. Indeed, you will be able to practice as much as you want without having to shell out extra money or wait for other golfers to finish. This will save you money, especially if you decide to install artificial grass, according to Back Nine Greens.
A grass lawn requires regular maintenance, while artificial grass will stay clean and green for years. Conversely, installing a putting green can increase the value of your home. We know golf course memberships can be expensive, so we've reviewed 20 different practice greens you can put in your backyard.
1. Raised putting green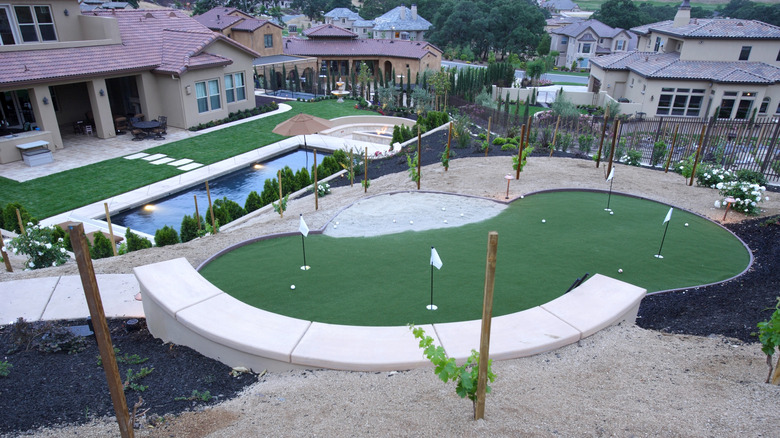 image/Shutterstock
If part of your garden is on a hill, installing a green on the slope still provides plenty of space for a swimming pool and other outdoor entertainment. This above putting green has a trail leading for easier access. To make the experience challenging, put a separate practice green on the other side of the pool.
2. Multiple holes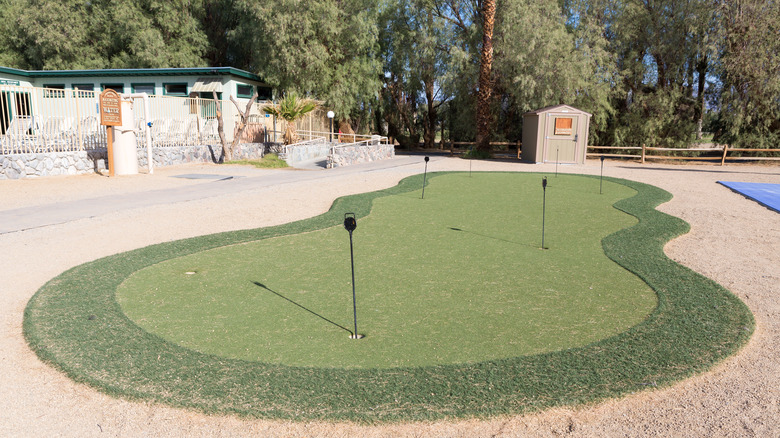 Bill45/Shutterstock
Wondering how big your putting green is? First consider the size of your garden and the ideal number of holes. Of course, installing multiple holes will undoubtedly improve your short game from different angles. This putting green pictured above has five spots for practicing long and short shots.
3. Style with greenery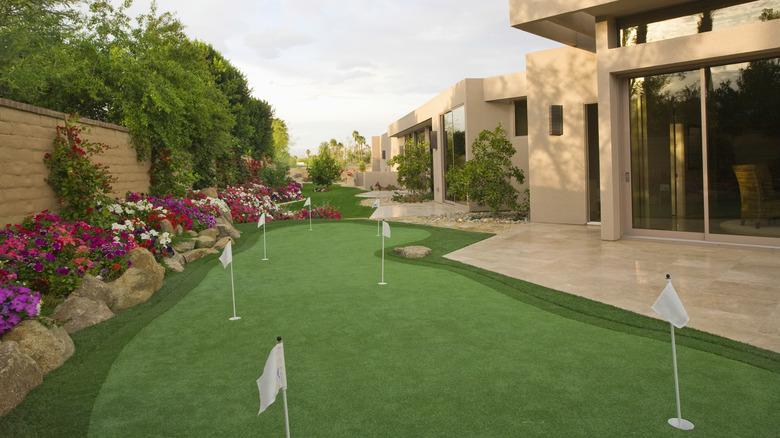 Sirtravelalot/Shutterstock
Placing a practice green also provides an avenue to incorporate fresh landscaping to make it more beautiful. In particular, this one is surrounded by rocks that separate the mini golf course from the plants and flowers, making it a perfect barrier. As a result, the space looks clean and inviting.
4. One-hole putting green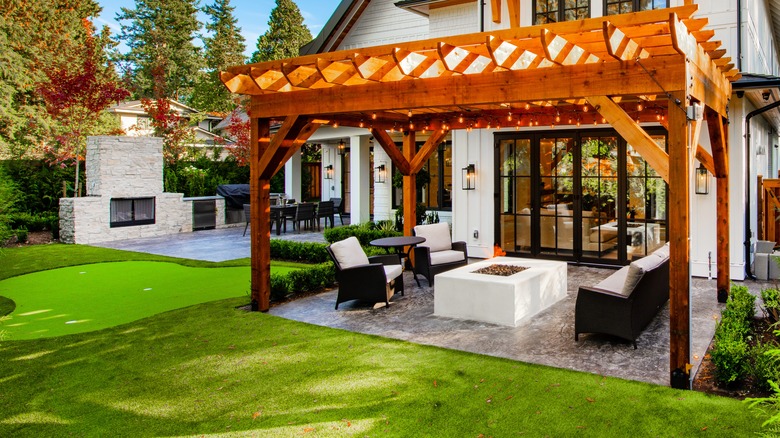 Sheila Say/Shutterstock
For small backyards with limited open space, use a small patch of grass to create a one-hole green. Indeed, it will stand out from the rest of the yard since you will have to trim it for a smoother look.
5. Simple putting green
Massive backyards can take a little time to landscaping beautifully with a pool or garden. However, setting up a green first allows you to decide its size. This backyard sits on a large area of ​​land, so surrounding the green with a play area or swimming pool will fill the space.
6. The right location
Choosing the right place to install it is crucial, as it can easily occupy the whole garden or just a small part. For example, this space has the putting green at the far end of the grass section, which could have been extended for a larger course.
7. Put a green oasis
Surround your green with a variety of tall trees and plants to make it your oasis, especially if you live in an area with lots of birds. You will feel like you are in a forest. In addition to making it more relaxing, add some aquatic elements, like a small river or a waterfall.
8. Portable courses
If you don't want to install a putting green, build a portable mini-golf course that can be stored during the summer or winter months. Buy or create your own for you and your friends to play. This backyard has several mini golf holes, each designed differently to make it more fun.
9. Difficult holes
If you decide to make a portable putting green, build it with a few obstacles, like bumps or a slight slope, like this putting green. You can place it anywhere in your garden, such as your porch, and practice swings at any time of the day.
10. Bowling Green
For something a little more creative, use pins and bowling balls as obstacles. Swinging pins will undoubtedly (but amusingly) interfere with the golf ball, making it difficult to get it into the hole. Instead, use the bowling ball as a barrier to try and get the golf ball around it.
11. Color and contrast
Let's say your garden has a stone floor. Well, a good way to break up the landscape and add some greenery is to use a putting green. This golf course is in the middle of the back yard, leaving the rest of the space with stone flooring and a planting garden. It also adds color and life to the gray colored backyard.
12. Along the Fence
Installing a putting green in a corner against the fence can beautify the side of the pool. Choose a side that receives partial to full shade so you don't get sunburned if you're out for hours. In addition, you can spend time with your family or friends while they use the pool.
13. Side of the House
If you prefer a larger green, extend it to the side of your house to include multi-hole miniature courses. This backyard has a few holes at the end and shredder mats that reach into far places. You can still use just the side of the house for a lesson.
14. Artificial Grass Carpet
To avoid digging into your manicured lawn, the easiest way to lay a putting green is to use artificial turf. Just like this putting green, you can build one in different shapes and sizes. It is perfect to install anywhere.
15. Favorite Character Obstacles
Designing your own putting green? Give it a theme to make it more fun. For example, this putting green features characters from Mario Bros., including Mario, Bowser, and the Nintendo logo. Incorporating them makes it harder to play and win, but perfect for friendly competition.
16. Subtle putting green
It doesn't matter if your home is isolated from other neighbors, place a putting green in an area surrounded by trees. This one keeps things simple with a one-hole course, but has a wide area to play from any angle.
17. Floating Green
We've already mentioned how you can set up a putting green next to the pool, but there's also the option of buying a floating version. For example, this piece of artificial turf provides a means of chipping golf balls from the yard onto the green. Good luck with a hole-in-one!
18. Fairy lights
It can be difficult to see which direction to hit the golf ball during nighttime outings, but hanging string lights can brighten up the area. This backyard has a putting green all the way back, with overhead hanging lights to make swinging and playing easier.
19. Whole Backyard
If you want to improve your golf skills, you will need a bigger course with several holes. This will give you the practice you need using more than half of your garden. For example, this green occupies the entire left side of the backyard.
20. A sand bunker
Most golf courses have a variety of sand bunkers to make the game more challenging. Once the ball lands inside, it can be difficult to get out. If you plan to incorporate a putting green into your backyard, add a small bunker if you have the space.