Frank Ford III has won numerous tournaments and received numerous honors, all special in themselves, over the course of a long career as a golfer. But the latest honor, his induction into the Carolinas Golf Hall of Fame earlier this month in Southern Pines, NC, comes full circle in all of his accomplishments.
Shortly after his father's death in an Eastern Airlines crash in 1974 that claimed the lives of many Charleston residents, Ford decided to quit the family concrete business and become Hale Van's assistant. Hoy with the Carolinas Golf Association in the Pinehurst, NC area. .
"Before 1975 I was just a golfer. It was a game I played. And then I went to work for the Carolinas Golf Association and learned the other side of the game, how it is administered and how people work hard to present the game the way it is meant to be. It has continued with me ever since, "said Ford, who, after several years with the CGA, led the Georgia State Golf Association before returning home and to join the business world.
Ford joins his grandfather and namesake Frank Ford Sr., who was inducted in 1992 into the Carolinas Golf Hall of Fame. Other area residents who are members include former Masters and PGA Champion Henry Picard (1983), a member of the World Golf Hall of Fame; former PGA Tour golfer Randy Glover (1990); Beth Daniel, LPGA Star and Member of the World Golf Hall of Fame (1994); longtime club professional Terry Florence (2009); and golf architect Mike Strantz (2010).
At the event held at the North Carolina Country Club, two 2020 selections were also recognized, longtime Duke women's golf coach Dan Brooks and women's golf pioneer Dorothy Thigpen. Brooks coached Duke for 37 years and led the Blue Devils to seven NCAA National Championships, 21 ACC Championships and 140 tag team wins, the most female golf coaches in Division history. I. Thigpen, who died in 1989 at the age of 88, was a star golfer in the 1920s and continued to play until she was 70. She won the first two Carolinas Golf Association Women's Championships held in Charlotte in 1922 and Pinehurst, North Carolina in 1923. She was also the first woman to make the Duke Men's Golf Team ( at the time of Trinity College) during his university years.
Ford, who is a member of the SC Golf Hall of Fame as well as the Furman and Porter-Gaud Athletic Halls of Fame, has an impeccable golf resume. The six-time Charleston City Champion, has also won six Azalea Invitationals, the Carolinas Amateur Championship in 1992, the SC Amateur Championship in 1996, and has raced deep in the US and UK senior amateurs. He was player of the year in 1992 in both the Carolinas Golf Association and the South Carolina Golf Association.
Ford has competed in over two dozen USGA events and helped bring the 2013 US Women's Amateur and 2019 US Women's Open to the Country Club in Charleston. He was recognized by the USGA with his Ike Grainger Award for 25 years of service.
"I heard about the Hall of Fame in June and had time to think about it and prepare for it," said Ford, who had a large contingent of family and friends on hand to the enthronement. "The support for me has been amazing. It made you want to cry. It's pretty impressive to be in that crowd. It's humbling. It really is."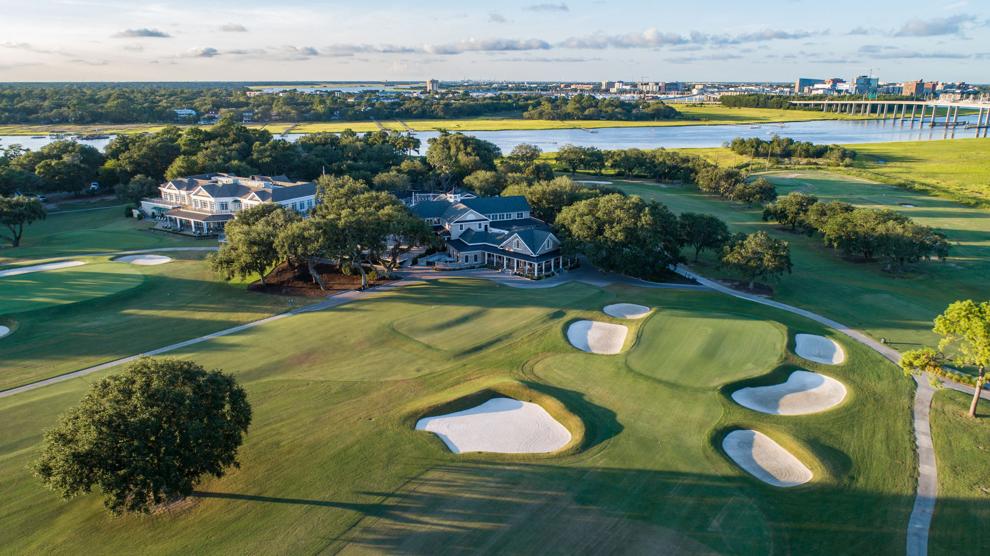 CALGA Christmas tournament
The Charleston Area Ladies Golf Association (CALGA) hosted their annual Christmas scrambling tournament on December 6 at Coosaw Creek Country Club.
The low gross winners were Linda Muzzy of Wild Dunes, Mirello Abbo of Dunes West, Chiaki Kight of Shadowmoss and Cheryl Boan of Coosaw Creek with a team score of 68. Lynne Klinkhamer of Wescott, Anne Gleason of Coosaw Creek and Janice Zagorski of Dunes West were second with 69. Judy Hair of Coosaw Creek, Sue Jones of Rivertowne, June Stovall of Shadowmoss and Bonita Martin of Wescott shot 70.
The bottom net winners were Evie Wasson of Dunes West, Dianne Bowler of Shadowmoss, Lisa Tang of Crowfield and Judy Whaley of Coosaw Creek with 55; Linda Travis of Rivertowne, Arlene Southerland of Wild Dunes, Martha Wright of Shadowmoss and Dee Spoone of Coosaw Creek with 57; and Lori Barrett of Charleston City, Charlene Atkins of Wescott, Lois Koslovs of Shadowmoss and Kathy Stark of Coosaw Creek with 57 years old.
Ace
Peter Suorsa, Nov 30, Charleston Municipal Golf Course, # 14, 110 yards, pitching wedge. Witness: Henry Riggs.
Ed Hines, December 5, Snee Farm Country Club, # 4, 138 yards, 8 iron. Witnesses: Wynn Hines, Jimmy Craven.
Ron Cousino, December 7, Rivertowne Country Club, No.8, 104 yards, gap wedge. Witnesses: Larry Pierson, Dennis Laabs, Steve Meyer.
Matt Laydon, December 9, Yeamans Hall Club, # 3, 117 yards, pitching wedge. Witnesses: Troy Miller, Neil Davis, Tom Atchison.
A hole-in-one must be signaled by the golf course. Please email as at [email protected] and at [email protected]