As a caddy at the Sand Valley Golf Resort, a concert that won a full round Evans scholarship At the University of Wisconsin-Madison, Cale Kubisiak of Wisconsin Rapids used to carry heavy loads.
Two bags at a time, sometimes over 36 holes a day because that's the life of the looper, and he loved it. It could be physically taxing, yes, but not so much that he couldn't finish a few days of work with nine holes of his own near home.
But that work couldn't compare to the challenge that interrupted his freshman year in Madison, where Kubisiak was one of more than 80 caddies living in the Evans Scholars House on campus. One night he developed a nasty cough – "a very deep cough that hasn't gone away," he said – and arranged to go to a walk-in clinic on campus, where a doctor began to perform tests.
"She said 'something was wrong'," he recalls in an interview with the UW Memorial Union this month, a short skateboard ride from the College Hall on Langdon Street. "They took an x-ray of my chest and pretty quickly found this giant lump." Further tests over the next few days confirmed that Kubisiak had Hodgkin lymphoma, a form of cancer. It wasn't a diagnosis a freshman would expect, but Kubisiak's response was remarkably straightforward.
"I would say it was a lot scarier for my parents," he said. "I couldn't change it as much as, well, ride with it. "
With a degree in mechanical engineering, Kubisiak took a keen interest in the machines used to test and treat his cancer. But his educational path immediately changed. Facing a long period of aggressive treatment, Kubisiak took a leave of absence from school – the College of Engineering held his place and the professors were supportive – and moved to his home in Wisconsin Rapids to begin six months of chemotherapy. in a cancer center there. The first dose of the drug concoction knocked him out, robbing him of his sense of taste and appetite, not that he could consume much more than chunks of ice or water.
But over time, he started to feel better a few days after each treatment, which allowed him to return to Sand Valley, where he had started working as a caddy in 2016 before becoming a full-time summer looper. in 2017. He played golf again, too, finding the golf course a place where he could feel somewhat normal in a world that was decidedly upside down. After six months of chemotherapy, doctors instead turned to a stem cell transplant, followed by months of additional radiation and chemotherapy.
Even during his months of treatment, Kubisiak worked as a caddy when he could. Sand Valley is only half an hour from home (his older brother Max also won an Evans scholarship from his summers there) and while carrying chemotherapy in his left shoulder limited him to one. bag at a time instead of two, he was happy to be on the course again. He says he's never worn for a rude customer; he once caddied for a man in remission from colon cancer, which gave them something in common to talk about for four hours.
Something good.
"I received (notice of) complete remission on January 6, the day before my birthday. So it was quite a gift, "said Kubisiak.
Because the COVID-19 pandemic forced many UW classes to go online last year, Kubisiak was able to take classes while recovering at home. And after missing a year of school in person, he's now back on campus with a sophomore.

And he's back with his family of cadets, his college fellows as they call themselves, who have supported him so much during his illness, staying in touch in person and online, even writing him a letter occasionally. the House. "Slow courier," he called it, and every method of contact helped. Evans Scholars even organized a fundraiser to help him pay his medical bills, having previously filled his hospital room with cards and posters of support.
"It was a blessing to see all my friends there," he said of this visit.
He often uses the word blessing to describe in detail what he calls his journey, including for another group of friends he has met through golf who call themselves the Barons. Founded by Nick Campbell, the name is an acronym for Buddies and Parents of Nick, which hosts an annual father / son group golf outing, originally in Oregon but now in Sand Valley. As the outing grew over time, the Barons added a charitable component to the event and chose the Evans Scholars Foundation as their cause, establishing a named scholarship endowed to pay for tuition and housing. 'an Evans Fellow for four years.
In 2018, the Barons chose Kubisiak, who had just been awarded a Western Golf Association Evans Scholarship valued at $ 120,000, as the first recipient of the endowment scholarship.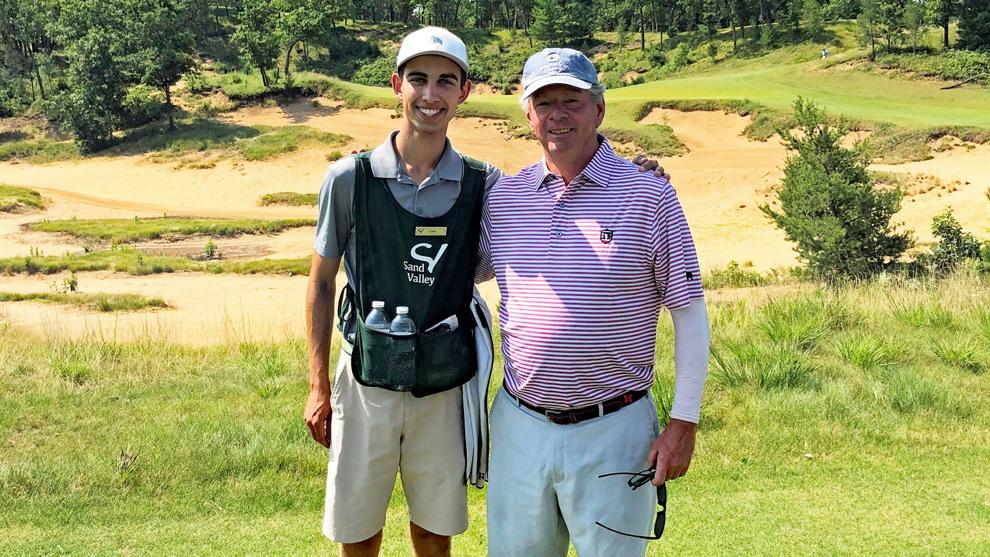 Kubisiak said he's always interested in how people react when they find out he's going to college on the cart fruit, which is just another way golf has been. an important part of his life. Looping to Sand Valley and playing as much as he could on his own – he still hasn't passed 80 but says the potential is there if he can 'put it all together' – was helpful in doing so. in the face of her cancer, and even on freezing days like the one we met the game is on her mind.
Kubisiak discovered that The Lido, the fourth popular course currently under development in Sand Valley and which is generating so much buzz in golf circles, was accessible as a video game.
"You can play it digitally," he said, "so I played it a lot. It's cool to play on this course and think that's what they're building.
His journey through cancer continues. Recently a scan found something, but the first test of what it might be was inconclusive. Kubisiak hopes it's just scar tissue, but more testing will take place. He said he didn't dwell on it now, having learned not to sweat things he can't control.
"I am always focused on the here and now," he said. "With the finals, I just focus on school now. "
After the interview, he stopped on the sidewalk outside the Union to check something on his phone, then to admire the food delivery robots moving along the sidewalk or waiting for traffic to pass. clears before crossing Langdon Street. The mechanical engineering student in him thinks they're really cool.