Before the Tiger vs Phil game in 2018, hardly anyone knew anything about Shadow Creek Golf Course in North Las Vegas, Nevada. Fazio's immaculate design was nestled in the Mojave Desert – a private oasis for real estate and casino magnate Steve Wynn and a golf mecca for the rich and famous – until the property was acquired by MGM Resorts International in 2000.
But when the curtain was drawn on that afternoon game four years ago at the end of November, golf fans were in love, immediately falling in love with the immaculate layout and pristine conditions, drooling over the fairways and perfectly maintained greens, eager for more extravagance. Since The Match, Shadow Creek has only hosted two other nationally televised events and this week fans will once again have the opportunity to see the course in all its glory as the best of the LPGA compete in the second edition of the Bank of Hope LPGA. Match-Play, thanks in large part to Superintendent Greg Niendorf and the Agronomy team at Shadow Creek.
"We are fortunate to have staff who have put their lives on hold for these events," says Niendorf. "They are motivated. They really care about the golf course and what it shows. We were thrilled to have the women here (last year). I think everyone had a great time and at Shadow Creek, both my staff and the clubhouse staff, they are thrilled to have everyone here.
Expectations are high for Niendorf's staff when it comes to day-to-day maintenance at Shadow Creek, but a large team and an abundance of resources make it easy for Greg's team to meet this demand for excellence, providing every golfer an excellent, once-in-a-lifetime everyday playing experience. And it's this week-to-week consistency that gives Shadow Creek a head start as it prepares its course for elite professional play.
"On a day-to-day basis, we are in pretty good shape. There's more detail work involved and when it comes to those events, it's just more frequent mowing for us," says Niendorf. "We do a little overtime because at this time of year we have extra groups playing golf that we might not have in December, so we're just trying to work around the game of our guests and getting things done for them. But at this point, we're mowing pretty much everything daily to fine-tune the playability of the women's golf course.
It also helps to have a reliable partner in John Deere, who provide Niendorf and its staff with the equipment necessary for such high-level maintenance. "Historically, we used competitors' products, and more recently we've slowly switched to John Deere, with Stotz (Equipment) being our local distributor, for that reason – that local service is much better than competitors. "I don't think we've been in a situation yet where they haven't gone above and beyond to help us and provide us with what we need."
Annie Giangrosso, Director of Rules and Competition for the LPGA Tour, has set up many golf courses in her nine years with the Tour and recognizes the benefit of working with a team like Niendorf who puts a lot of effort into the upkeep of their establishment. A well organized tournament starts with a well thought out setup and when a facility has all the details in terms of maintenance it gives rules makers the freedom to prepare the course for competitive play without having to worry about the details.
"When a golf course is always in good condition and the grounds staff take great pride in their day-to-day work, LPGA tournament days seem 'normal'. Their routine is not drastically different just because 64 of the best players in the world are now playing their courses," says Giangrosso. "It helps me a lot when setting up, because the details are taken care of out of habit. I don't worry about the little things – bunker rake placement, properly cut holes, etc. – so I can focus on preparing for this series of games without worrying that my next big problem is looming around the corner.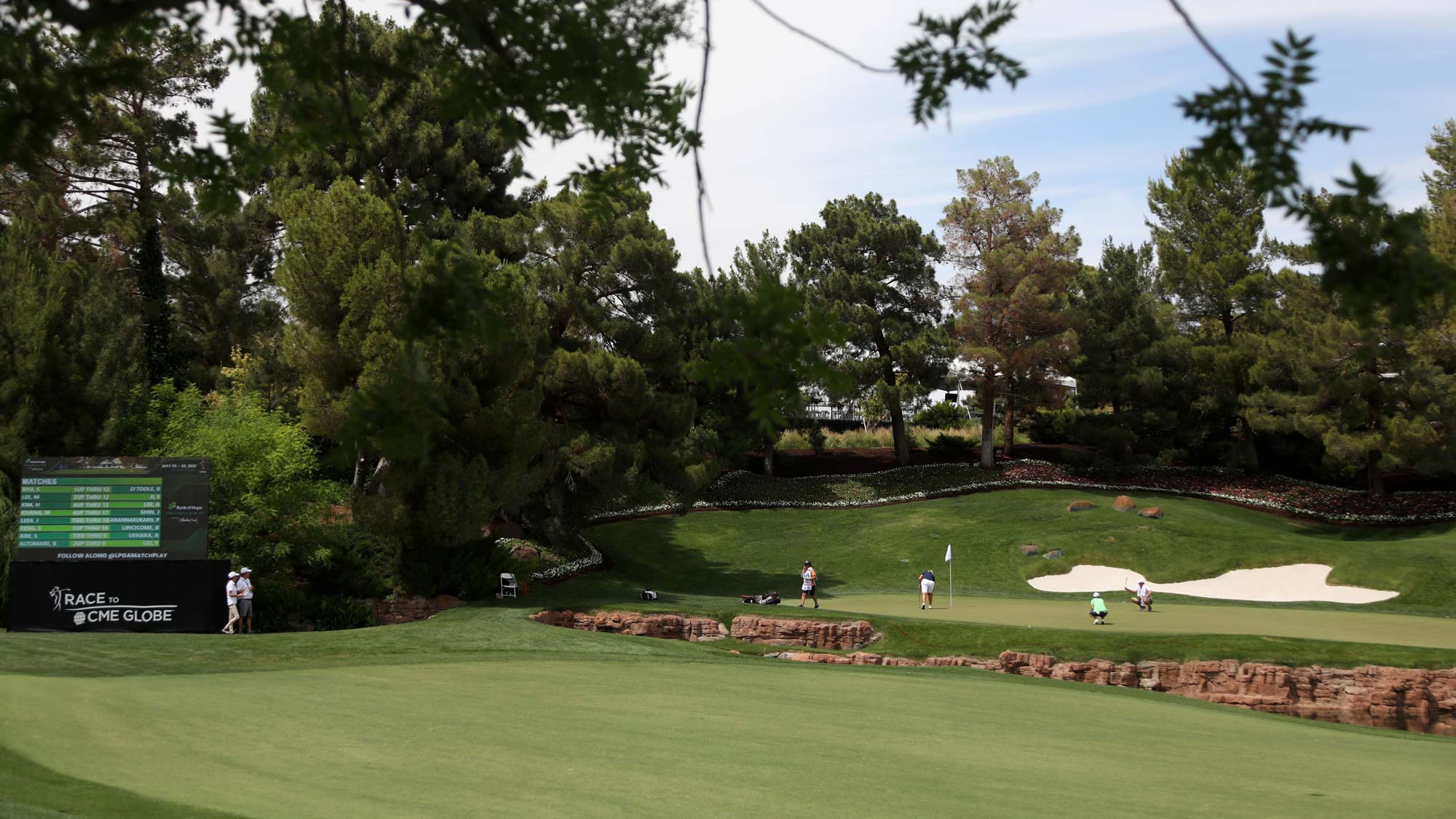 As for what players and fans can expect this week at Bank of Hope LPGA Match-Play, Niendorf says Shadow Creek won't play much differently than last year. Although the golf course has lots of trees and lots of microclimates caused by pockets of moisture created by the prominent bodies of water on the property, much like the real desert, conditions will be firm and fast.
"All cutting heights are the same. We don't usually get rain at this time of year, so it's going to be dry," says Niendorf. "The fairways are going to play fast and firm. The greens will be pretty much the same as last year. They will probably run 11 ½ or 12 and be a bit firm and firm up later in the week as the week progresses.
Giangrosso looks forward to the tough test that Shadow Creek will provide for the group of 64 and expects some drama to unfold as the games progress. "A good course in match play gives players options and forces them to make decisions. Shadow Creek certainly fits the bill, especially when you tee off three of the four par 5s. Hole 4, hole 7 and hole 9 will play as accessible par 5s throughout the tournament and will certainly be a determining factor in setting the tone for each match before even making the rounds.
"Shadow Creek is tough. It has always been hard, and it always will be. I'm not sure we would want it any other way.
While the promise of great golf is exciting, Niendorf is more than eager for the hard work of its staff to be showcased once again on the national stage. Agronomy teams are very rarely recognized for their daily efforts, so having the opportunity to host the LPGA Tour and see the beauty of Shadow Creek grace the TV screens of thousands of fans around the world is something Niendorf and his team are particularly proud.
"The most rewarding part is seeing my team come together a few weeks before and put in all the hard work they're doing. They're very proud of what they've done. They're happy to show off what they've done. not just on TV, but also telling their friends and family where they work and what they've been up to and that's probably the most rewarding – they appreciate what we've come together to do.