At the start of the fall semester, students enjoyed music, dancing and a glow-in-the-dark miniature golf course during the "Good Vibes at the Golf Course" event.
Organized by the Student Programming Board, "Good Vibes at the Golf Course" took place for the first time on the fifth floor of Columbia Student Center at 754 S. Wabash Ave. 2 p.m. to 5 p.m. on Sunday, September 1. 4.
The event also featured Jory Holmes, a major young actor, who performed for the event as "J. Holmes," giveaways and ways to connect with members of the Columbia community.
Jewel Baker, president of SPB, said "Good Vibes at the Golf Course" is an event for the entire Columbia community.
"It's for everyone," Baker said. "Of course, Welcome Weekend is still for incoming students, but at this point, especially with SPB, we stand for inclusion."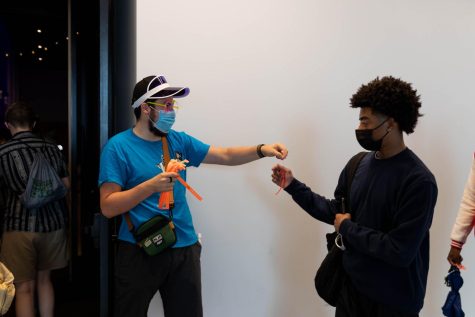 Attendees were welcomed by the SPB Board of Directors at a table with gifts such as SPB magnets, pins and a brochure containing event details and information about SPB. board of directors.
Before playing golf, students had the chance to claim glow-in-the-dark wristbands and goggles with an extra visor to match the theme of the event.
Kimberly Vazquez, vice president of SPB, said the council always creates unique events.
"When it came to 'Good Vibes on the Golf Course,' we wanted something fun…and then we also saw it as an opportunity for everyone to mingle," Vazquez said.
The event in partnership with Record-A-Hit Entertainment, which according to their website, it is a "full-service party equipment supplier specializing in youth entertainment at college and corporate events". baker said after the idea of ​​the mini golf, SPB was able to contact the company and ask if they had mini golf courses for the event.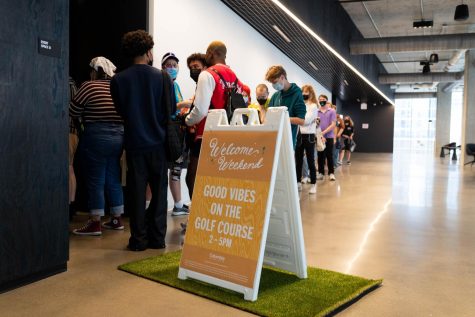 The seven-hole golf course featured phosphorescent hues of greens, purples and pinks, which students draped in black lights.
First-year musical theater student Kaleb Rhyne used this opportunity to socialize.
"A lot of us socialize, that's kind of my favorite part," Rhyne said. "Also meeting new people and having a bit of fun with them at the same time, and then the music of course."
Vazquez said SPB saw the event as an opportunity to introduce ourselves and inform students about the club in the hope that they will be interested in joining.
Baker said SPB has already planned various events for the rest of the fall semester that students can check out on the group's Instagram.
"My personal goal for this year is just to bring in as many people as possible for things they've never seen," Baker said. "Me being from Chicago, I want to allow students to see the full range of Chicago, so it's like a little preview of a future event."