WAUWATOSA – Rob Jansen, executive director of the Wisconsin State Golf Association, got it right when he said the three newest members of the Wisconsin Golf Hall of Fame illustrates the best of the game.
Frances Hadfield was a pioneering female amateur golfer in the first half of the 20th century. Carolyn Barnett-Howe represents the PGA of America with distinction as a player and teacher. And John Jenson is the epitome of volunteerism, selflessly giving of himself in many ways so others can enjoy the game.
Hadfield, Barnett-Howe and Jenson were inducted into the Hall of Fame on Saturday night at a ceremony at Blue Mound Golf & Country Club. Their inclusion brings the number of consecrated persons in the hall to 101, dating back to the initial promotion in 1964.
Hadfield, who died in 1953 and for whom no living relatives could be found – she never married and had no children – was introduced by Mark Ruttum, the club historian at Blue Mound .
Ruttum said that while researching the Milwaukee Public Library, he found more than 500 references to Hadfield in articles from the Milwaukee Journal and Milwaukee Sentinel.
Hadfield was the daughter of 1910 State Amateur runner-up Harry S. Hadfield. She won the first of her four Wisconsin women's match play titles at age 17 in 1917. She was also a two-time Clearwater (Fla. ) Women's Invitational, which drew a national field. And she was a finalist in the 1918 Women's Western Amateur.
But her greatest fame was a playoff victory over reigning United States Amateur Champion Glenna Collett in the 1926 Belleair (Fla.) Invitational. According to a New York Times article, Hadfield had a long putt on the 19th hole to beat Collett, who would later marry Edwin H. Vare Jr.
Collett-Vare, a member of the World Golf Hall of Fame, won six U.S. women's amateur titles and played on the first U.S. Curtis Cup team. Although Collett-Vare never turned professional, the Vare Trophy, presented annually to the woman with the lowest average on the LPGA Tour, is named after her.
Barnett-Howe, 60, compiled an impressive playing record dating back to his junior days at Reid Municipal in Appleton. After earning 12 varsity letters in four sports at Appleton East High School, she joined the University of New Mexico women's golf team as an extra and ended up playing in two NCAA championships.
With a degree in Russian studies, Barnett-Howe found she had limited career options after graduation.
"When you finish college, you have to step into the real world," she said in her acceptance speech. "With my degree in Russian studies, they say to me, 'Would you like fries with that?' So I had two interviews. One was in a bank, and it seemed soulless. And then the other one, my dad was in the paper industry and they gave me a wing nut to see how fast I could screw it on. I almost cried. Does the world have to offer me?
"I was seriously at the end of my rope."
Then she was introduced to PGA professional Steve Howe, who offered her a job and then asked her to marry him.
"The golf ball doesn't care if you're black or white, male or female, young or old, rich or poor," she said. "And holy cow, I needed that at that time. Steve treated me with a lot of respect, so I said, 'OK, I guess it's going to be golf.' »
She has won the Wisconsin Women's State Open four times and qualified for the Wisconsin State Open nine times, a record for a woman. Barnett-Howe is also a two-time National PGA Women's Stroke Play Championship winner (2006, 2008) and has twice competed in the US Women's Open and US Senior Women's Open.
But it was as an instructor, particularly to junior golfers, that she made perhaps her greatest mark on the game. More than 200 of her students went on to play golf through college, all levels.
"I felt like I could tell the kids all the things that tripped me up and I could help them with that," she said. "That's actually where my career, for me, was most important."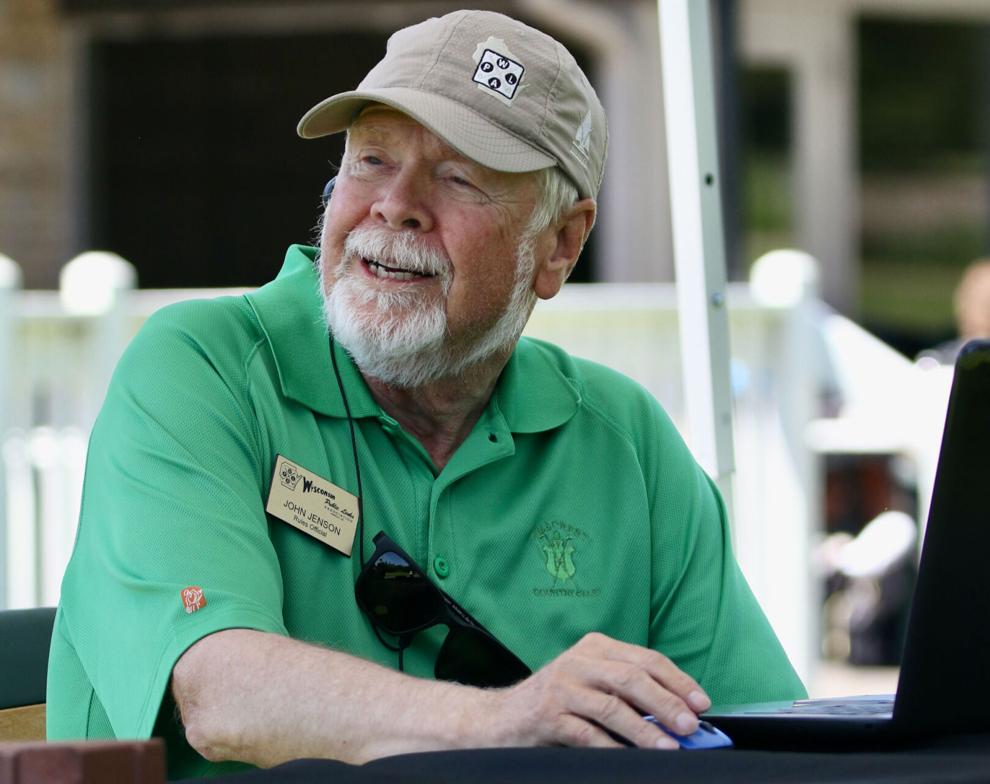 Jenson, 75, is a tireless volunteer who, since retiring in 2007, works an average of 95 days a year as a rules official and tournament administrator.
"Tonight I can brag about being a friend of John Jenson," said Randy Warobick, outgoing WSGA president and Jenson's presenter. "He didn't take anything out of the game, but he gave so much back."
Current president of the Wisconsin Public Links Association, Jenson leads the Ray Fischer Amateur Championship at Janesville Riverside Golf Course, which draws a strong field each year. He has been a director of the WSGA since 2002 and was the organization's 2021 Volunteer of the Year.
Jenson, who lives in Madison, is also a rules official for the WIAA, WSGA and Wisconsin PGA Section.
"I hit the moon and I'm off again," he joked of the 252,000 miles he put on his car, criss-crossing the state from May through September.
Jenson has a background in accounting and describes himself as a "volunteer junkie." He volunteers with several other organizations in the Madison area.
"It's just my nature," he said. "I am a retail person. Numbers should always add up.