As golf stories go, this one had a whiff of fable.
In a solitary sample of central Nepal, in the shadow of the Himalayas, a self-taught architect had designed a course that experts deemed worthy of the world's Top 100.
No less authoritative than Tom Doak had given him an "11" on his personal rating scale, which only ranges from 1 to 10.
A skeptic by nature, I had my doubts when I first heard the rave reviews a few years ago. I would need to see this course for myself.
Last month, I finally made it.
Getting to the Himalayan Golf Course requires effort no matter where you start. I live in Los Angeles, but my work as a technologist often takes me to India. In anticipation of a recent trip, I added a few days to my itinerary. From Coimbatore, the bustling metropolis where I had done business, I flew to Mumbai and spent the night in an airport hotel, where a lavish Indian wedding party was taking place in the lobby. Dodging revelers and marigold petals, I headed to my room to catch a few hours of sleep before puddle-hopping to Nepal's capital of Kathmandu, then on to Pokhara, the world's second most populous city. country.
Three flights, 1,700 miles and 22 hours later, I was almost there.
Mention Nepal, and many people imagine rugged base camps, the snowy springboards for assaults on Everest. Pokhara is not like that. Although towering peaks ring the horizon, the elevation is a modest 2,600 feet and the climate subtropical. I arrived in the early evening, in the middle of the monsoon season, and settled in a modest place in the city. When I woke up the next morning, I learned that it had rained three inches overnight. More was expected. My phone's weather app showed a 100% chance of precipitation, with lightning at 3 p.m., the time I was hoping to play.
Known as the gateway to the Himalayas, Pokhara occupies a historically significant location along an ancient trade route between India and China. It is also home to a large contingent of Gurkha soldiers, elite recruits who have long served in the Nepalese, Indian and British armies, as well as UN peacekeeping missions. It was a Gurkha soldier turned British officer, Major Ram Gurung, who designed and built the Himalayan Golf Course in the 1990s in what was once an undeveloped river valley.
The property is about 30 minutes outside of town if you're traveling by taxi and your taxi driver doesn't get lost. Mine did, stopping only three times to ask the shepherds for directions. The landscape was pastoral, lush and hilly. Eventually we came across a guard post, which I recognized from a YouTube video I had seen on the trail. I asked my driver to turn up.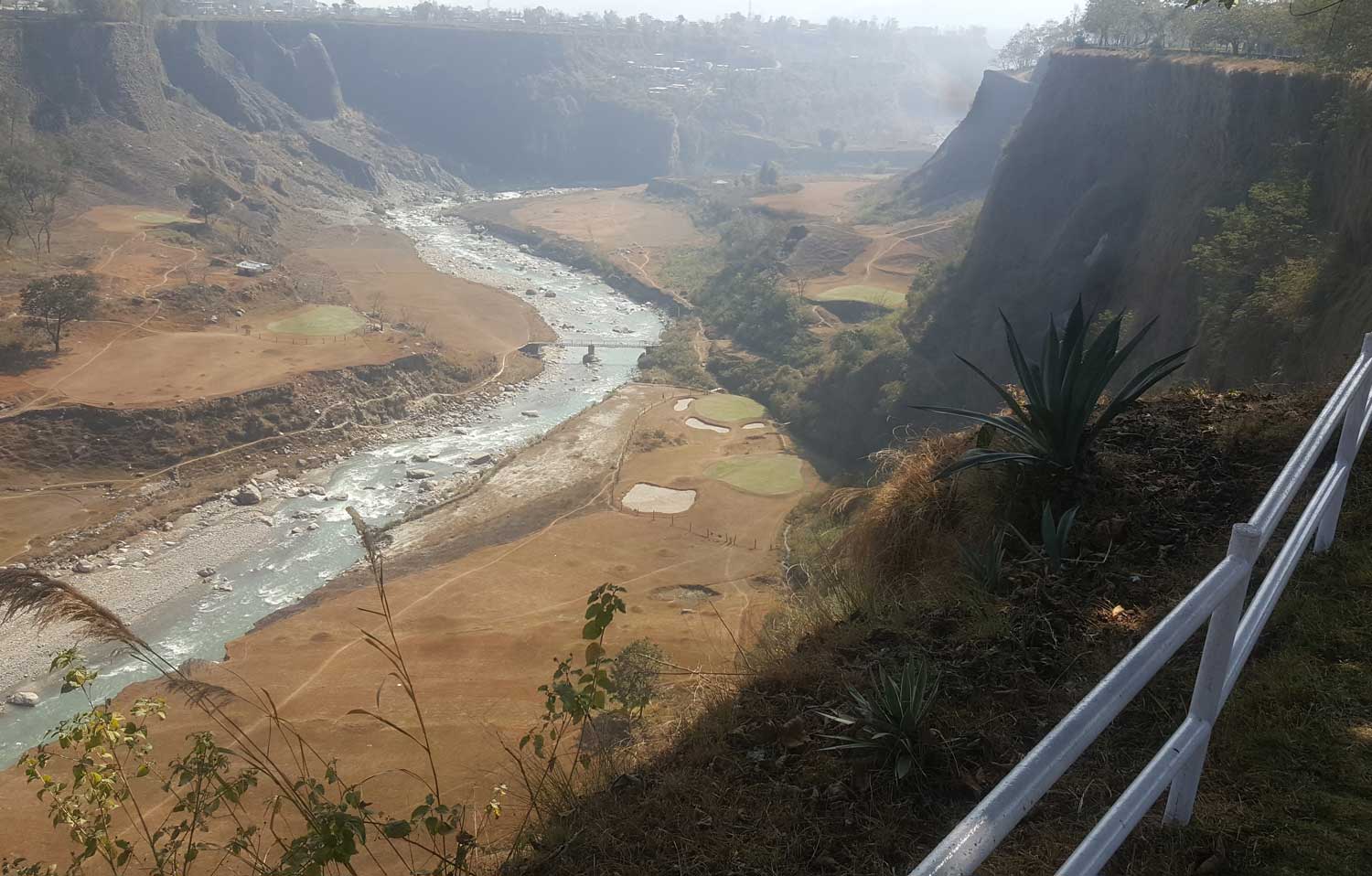 A uniformed guard saluted as we drove. We raced down a rutted road flanked by the carcasses of half-completed buildings, the remnants of an unopened complex, and parked at the clubhouse, a square cinderblock structure that backed onto a patio where six men sat. seated, the course stretched out behind them.
One of the men was Bhuwan Gurung, an affable 47-year-old who should not be confused with the course designer, Major Gurung. Bhuwan works as the general manager of the property.
Weeks before my visit, I had tried to email and call the course to let them know I was coming. I hadn't had an answer. But a colleague in India had reached out on my behalf, and Bhuwan was waiting for me.
I prefer to travel light and had left my poles at home. But I had brought a pair of golf shoes, a few balls and a handful of tees, which I had planned to leave as a donation. When Bhuwan told me how valuable basic tees were at the club, I kicked myself for not bringing dozens more.
When Bhuwan told me how valuable basic tees were at the club, I kicked myself for not bringing dozens more.
As for loan clubs, the options didn't include the latest and greatest. But they weren't bad either: a relatively recent vintage Nike driver and a set of Titleist cavity irons. I paid my playing fee of around $50, plus an additional $10 for rentals, and left with my caddy, a soft-spoken local, to pair him with Bhuwan in a three-ball. Our third was a young man named Raj, who grew up locally and worked at LinkedIn in Silicon Valley before returning home to be closer to his family.
World-class courses often open humbly, making your ride easy. The Himalayas follow this plan. Its first two holes are ordinary. But the third tee brings one of the game's most arresting revelations: a panorama of the vast valley traversed by a river through which much of the routing pours.
I could spend endless superlatives on the Himalayas, but I'll start with that. In a ranking of courses with the best collection of par-5s in the world, I would name Pebble Beach and Augusta National as top contenders. And I would put the Himalayas above both.
There are three on the scoreboard, starting with the 550-yard 6th, which has an Insta-ready island green preceded by a series of oddly shaped bunkers. Fair or not, the spikes tee shot requires a carry over 200 yards across the river, top right. It's safe play. The Tiger line is at the top left which gives a clearer angle into the green. I like to pick my targets from the tee to the horizon, and in this case the snow-capped Annapurna did the trick, its 26,000+ foot peak slicing through the clouds.
If the 6th is adrenaline and elation, the par-5 10th is an old-school understatement, with echoes of St. Andrews in a tee shot that calls for a central decision through rough hummocks at around 250 meters. The 15, the last of the par-5s, is not the least. At 515 yards it turns left and rises above a saddle, leading you up and out of the canyon to a green set on a ledge, overlooking the valley you have just crossed. The afternoon we played there, a small herd of sheep trailed right behind us. Cows were grazing in the distance. The goats were somewhere there too.
Cattle do more than stare at the Himalayas. As in Brora, the course is surrounded by fences around its greens to guard against ruminants. Machine maintenance is minimal. The fairways are not irrigated. The field crew relies on a single mower, a gift from the R&A. During the dry season, the course is firm, with many deployments in the fairways. When I visited, the pitches were soft, but the shots didn't hook up. They landed with a slight bounce.
As one of only two groups on the course that day, our pace was fast and the company was everything I could have asked for. Bhuwan is a golf addict of the best kind, passionate about the game but not overbearing with his opinions about it. With Raj as a translator, he shared snippets of his journey. Bhuwan had been to the Old Course at St Andrews, a trip not to be missed, and has competed on the South Asian circuit from time to time. In his spare time, he works on a course near the Tibetan border which, when completed, will be the highest course in the world. I would put his handicap at plus-3.
The weather forecast was only partially accurate. Precipitation fell, but it did not fall in torrents, and the lighting never flickered. The rain was warm and pleasant. It barely caught my attention.
The water of the river, raging with the runoff from the mountains, attracted more attention. I've seen calmer currents on class 5 rafting trips. The Himalayan routing goes back and forth on the river, requiring six or seven treks across makeshift footbridges. Watching the river just foam up, I tried not to think about what would happen if I slipped.
Watching the river just foam up, I tried not to think about what would happen if I slipped.

Dusk was approaching as we headed out on the 18th. We returned to soak up the views over beers and bowls of noodles. Along the fairway of the 3rd hole, towers have been erected, the first signs of construction of what will one day be an international airport, the kind of project whose scale and timing will certainly be decided in the halls of government power. . When it will be finished and how it might affect the course, I cannot say. Maybe Bhuwan knows that. I didn't feel like it was up to me to ask.
Instead, we chatted lazily, sipped our foam, and ate. The sun has set low. My taxi was waiting. I said goodbye to my playing partners and left for a long journey home.
Does the Himalayan Golf Course belong to the World Top 100? I could get behind that.
But outside of architecture, we could probably use a metric that measures inspiration. On a scale of 1 to 10, I would give it an 11.
Tom Brown is a technologist and a GOLF Review Top 100 panelist.